Solar Panel Cleaning in Temecula
Why consider solar panel cleaning in Temecula?  It's an excellent investment to have access to clean energy for your home through a solar panel system, but it's also important to maximize the available power through your panels.  Did you know that solar panels can be 25% less effective when the surfaces are dirty?
Over time, solar panels can build up dirt and grime, which has an impact on the way the sunlight hits the panels.  Therefore, it's important to consider solar panel cleaning to ensure you are optimizing energy throughout the year.
When was the last time you cleaned your solar panels? If it's been a while, give us a call at Pozitive Enterprises for more information about pricing and availability.
Solar Panels Get Dirtier Than You Think!
Attracting Dirt, Grime, and More
Inspect your solar panels, and you might see various things blocking the sunlight: grime, dirt, bird droppings, leaves, and more. Not only are dirty solar panels unsightly, but the dirt also takes a toll on the energy efficiency of your home and can cause damage to your panels.
Over time, buildup continues to collect, making it harder to clean in the future. If you want to stay ahead of the mess, the best solution is to schedule regular solar panel cleaning. Keeping your solar panels clean means that you don't have to worry about reduced efficiency or poor performance of your solar power system. You spent a lot of money on installation, which is why it makes sense to keep it running at peak performance!
Bird-Proofing Your Solar Panels
If you find that birds or pigeons have started nesting under your solar panels, you may notice more noise from their scratching and chirping, more mess from their nests, feathers, and droppings, a possible decrease in your energy production from the added debris they bring onto your roof, or even damage to the components of your system or even your roof. The best option to eliminate any future risks is to bird-proof your solar panel system.
Our bird-proofing services are a non-intrusive solution that helps protect your investment, and most importantly, does not void your manufacturer's warranty! Our installation process begins with carefully removing any nests, debris, and droppings under and around your panels. We include solar panel cleaning with our service to ensure your system is clear and clean from any dust before installation. We install black PVC coated galvanized steel mesh that is weather-resistant to the outer framing of your solar panels. The mesh is secured by durable clips that don't affect your solar panels or your roof; holes are never drilled into your system. We also offer roof and perimeter spiking to deter pigeons from perching, making the area less attractive to build their nests. We stand by the quality service and products we offer by including our 5-year warranty on the materials and installation.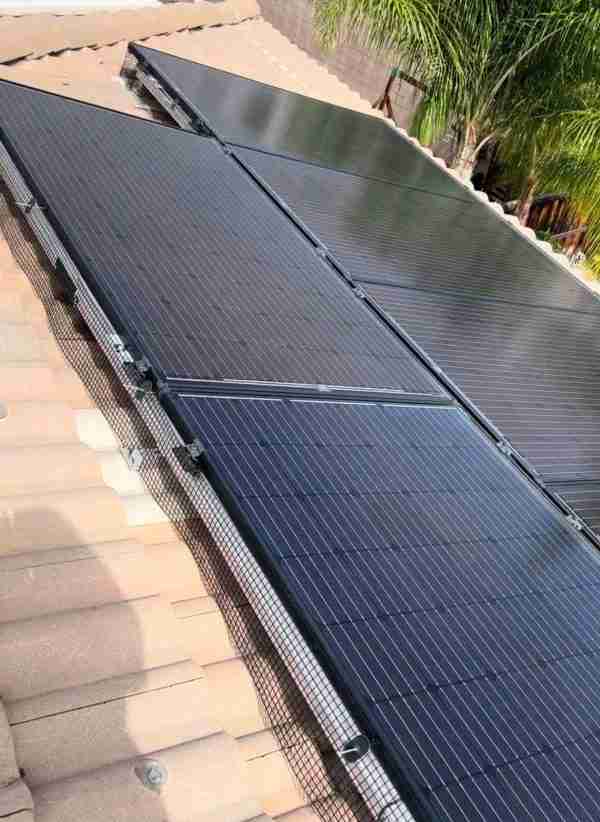 Solar Panel Cleaning: Factors to Consider
Solar panels require specialized care to avoid damage to the sensitive equipment inside. At Pozitive Enterprises, we have the training, tools, and expertise to clean your solar panels and prevent damage to this valuable system. Here are a few reasons why it's worth the cost to hire a professional team for solar panel cleaning in Temecula, CA, and surrounding areas:
Free Estimate for
Solar Panel Cleaning in Temecula, CA
How much will it cost to hire professionals to help with solar panel cleaning services? It depends on the number of solar panels you have, the current quality of the system, and how easy it is to access the panels that need to be cleaned.
Each home is unique, which is why we offer a personalized estimate for every project. Reach out to us at Pozitive Enterprises to request an estimate so you can learn more about the anticipated costs for the project.
When you are ready for information about solar panel cleaning in Temecula, CA, or surrounding areas, we invite you to reach out to us at Pozitive Enterprises. We're happy to answer your questions and offer a free quote for the services you need.