Putting up holiday lights is a fun way to make your home look festive this holiday season. If you want the house to sparkle, consider investing in residential window cleaning services before the lights go up. Starting with clean windows helps to improve the overall appearance of the property, letting your lights, candles, and wreaths stand out.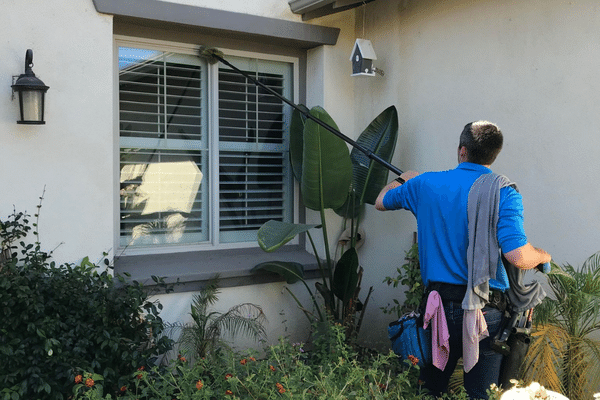 It's no surprise that the windows get a lot of attention when you put up holiday décor. You will set the best impression for friends and family if your windows are clean and sparkling. So, make sure that window cleaning is on your priority list as you prepare your home and decorate for the holidays.
Why Professional Window Cleaning Services in Temecula?
Is it worth the cost to hire professional residential window cleaners in Temecula? Yes! Here are a few of the reasons why it makes sense to pay for pro services:
Busy Holiday Season: The calendar always fills up fast because there is so much going on in the last few months of the year. It can feel overwhelming to keep up with all of the social events, work meetings, and home responsibilities at the same time. So instead of spending your limited days off on home improvement projects, it makes sense to hire the experts for cleaning services so you can focus on what matters most: your family and friends.
Supplies and Equipment: Most homeowners don't have the proper equipment or supplies for effective window cleaning. It takes a lot of work and effort, especially cleaning the exterior windows. Invest your money into professional services instead of buying hoses, ladders, poles, and other window cleaning supplies.
Quality of Services: Bringing in a professional window cleaning team is the best way to ensure the job is done correctly. Our team is trained to clean our windows safely and effectively. In addition, we bring all of the special equipment and skilled crew to wash your windows without leaving any residue or streaks behind.
Safety Considerations: Finally, remember that window cleaning could be a potential safety risk, especially if you don't have the right training or equipment. It's a challenge to reach the windows high off the ground. There is a lot of danger when climbing ladders and moving around at the top to clean the windows. Let the window pros handle the risky work – we always follow the best safety precautions.
Free Estimate for Window Cleaning Services
Are you ready to learn more about professional window cleaning services? Then reach out to our team at Pozitive Enterprises for a free consultation and estimate.
We offer residential and commercial window cleaning, as well as screen repair and solar panel cleaning. Contact us at your convenience: (951) 710-7044.