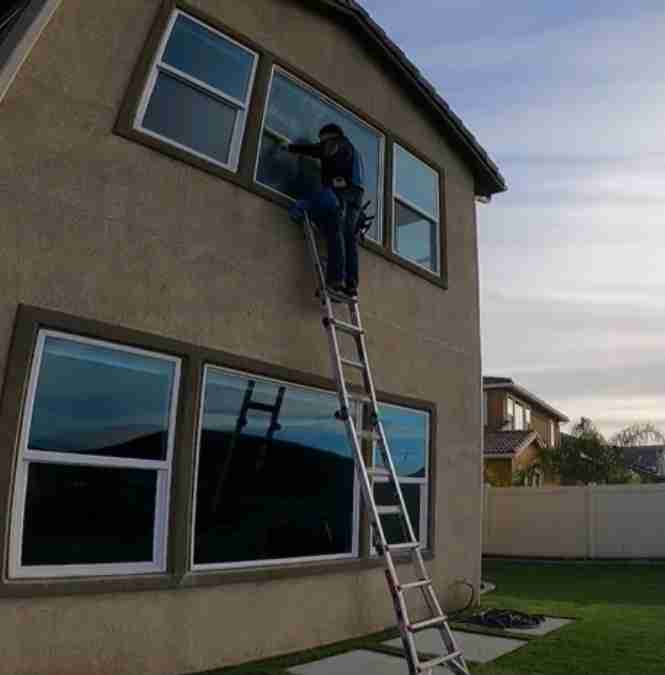 For many people, window cleaning tops their spring cleaning to-do list. You will be amazed at the difference sparkling clean windows make, to both your curb appeal and your own enjoyment of your home! But if you have unusually high or hard-to-reach windows in your home, cleaning them isn't as easy as it sounds. Follow these steps to get second (or third) story windows squeaky clean.
Make a plan. Set aside a day to clean your windows, and assume it will take longer than you imagine. Make a list of everything you will need.
Go shopping. Gather your supplies ahead of time, so that you aren't rushed on cleaning day. Suggested supplies include:
One or two buckets
Sponges
Rubber gloves
Towels
Lint-free cloths
Squeegees, with extension poles
A soft-bristled brush or miniature broom
A ladder
Decide how to reach the exterior of windows. Hopefully you can reach all interior windows by ladder, but what about the outside? You have two choices:
Move the ladder outside to wash the exterior of the glass
Open the windows and reach through from the inside
If you need to extend past your waist outside the window, do not attempt to lean out and clean them this way. Also, avoid the temptation to climb onto uncertain parts of the roof (a steep pitch, places that might be damaged, and so on). Remember that gutters are not meant to hold your weight.
Use ladders safely. Don't stretch so far from the ladder that you become unsteady, and definitely don't stack the ladder on top of other objects.
Have a backup plan. If you can't safely reach all of your windows with a squeegee and ladder, it's probably time to call in the window cleaning experts. We have equipment that helps us reach windows in any type of location. Let us do the hard work, so that you can stay safely on the ground.