As a business owner or property owner, there are a lot of responsibilities you are trying to keep up with. As a result, some tasks tend to fall to the back burner because you are focused on the highest priorities. For example, suppose it is a busy season, and you have a lot of orders and customer service requests coming through. In that case, it's likely that window cleaning and exterior services will fall lower on the priority list.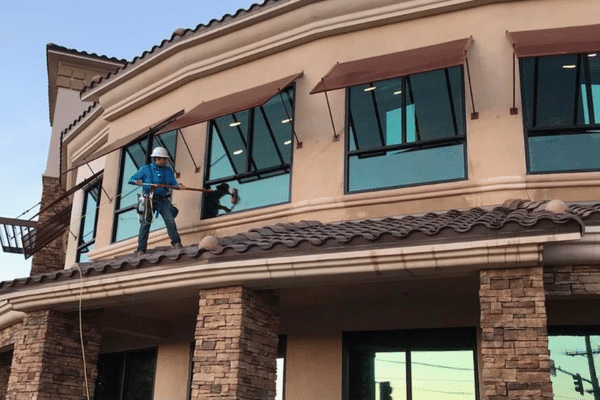 But you don't have to neglect your building because you are too distracted with other responsibilities. Instead, reach out to our team for assistance with commercial window cleaning in Temecula.
Clean Windows Affect First Impressions
It's important to understand that the appearance of your building has an undeniable impact on a customer's first impression when they approach your business. If the windows are dirty and the building needs cleaning and repair, you could be sending the wrong message about the quality of your company.
You want to make customers feel comfortable and welcome, which starts by ensuring that the windows are clean and bright. Hiring professionals for commercial window washing is an excellent investment when you consider how much these services will improve the overall curb appeal of the building – which has an undeniable impact on first impressions when customers come to visit.
Protect the Safety of Your Team
Have you considered the liability concerns that come with a DIY approach to window washing? Of course, you don't want to put yourself or your employees at risk by having them climb ladders or use unfamiliar equipment for window washing.
A professional window washing team brings all the necessary equipment to clean the windows quickly and safely. Keep in mind that safety is definitely a concern when you have higher windows that are harder to reach.
Longer Durability and Lifespan
One benefit of hiring a pro team to assist with commercial window cleaning in Temecula is that you can protect the quality of your windows. Our team brings specialized equipment to get rid of the dirt and grime that can build up over time. We take care of the hard-to-reach areas, helping to reduce the wear and tear that adds up over the months and years.
As a result, regular window cleaning can extend the life of your current windows and reduce the need to replace them in the future.
Pro Window Cleaning Services for Your Business
Is it time to clean the windows in your office building? Then reach out to our team for an estimate and professional services. Pozitive Enterprises is here to help with all of your exterior commercial cleaning needs, including window cleaning, screen repair, solar panel cleaning, and more. Contact us for more information, or call our office at your convenience: (951) 710-7044.