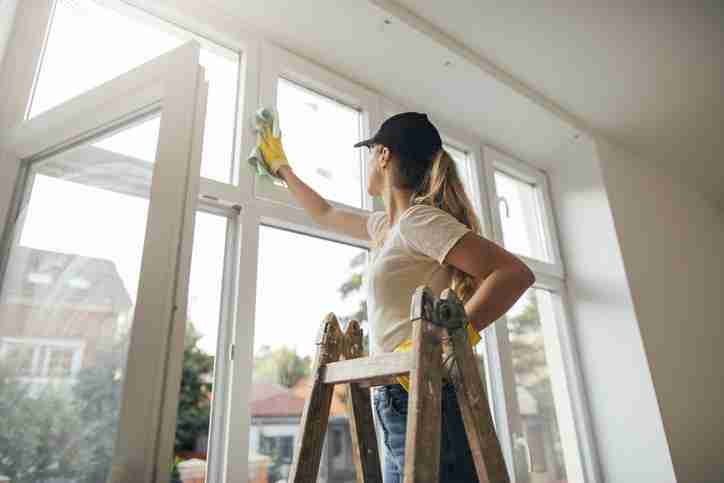 Spring is just around the corner, so maybe you're feeling the urge to start your spring cleaning. You might be interested to know that there's one chore that can spruce up both the inside and outside of your home: Window cleaning!
Cleaning your windows will make every room look cleaner and brighter, and the difference will be visible from the outside, too. Just follow these tips to get your windows sparkling clean just in time for spring.
Remove the screens. You might as well clean the screens at the same time you're doing the windows. Gently remove each screen and prop them up somewhere safe. Then, remove cobwebs, dust, and debris before hosing them down. All your screens to dry completely while you move on to the windows. Take note of where each screen belongs, so that you don't experience difficulty returning them to the correct windows later.
Raise the windows and clean the tracks. Use a vacuum attachment, duster, or microfiber cloth to clean out the tracks so that your windows will glide smoothly. You can also use these tools on blinds, if you have them.
Now clean the windows. First, dust the windows to remove loose, obvious dust and dirt. Then spray windows with a cleaning solution or warm water mixed with a few drops of Dawn dishwashing liquid. Use a gentle up-and-down motion to wipe away dirt and grime with a sponge or microfiber cloth. Avoid circular motions, because this can create a static charge which only attracts more dust back to the surface of the glass right away.
Now, dry your windows. You can allow them to air dry if you prefer, but streaking can occur. Another option is to hand dry them with a microfiber cloth, using the same up-and-down motion.
Now, just pop your dry screens back into each window, step back, and admire your work! Window cleaning can be a bit labor intensive, but it's certainly worth the difference.
If you have questions about window cleaning or would like for us to handle this chore for you, give us a call and we'll be happy to help.