Have you noticed a few small holes and gaps in your screens? When you can see visible damage, it's easy to jump to the conclusion that the screens need to be replaced.
But the truth is that screen repair might be a solution to repair these issues and protect the long-term durability of your screens.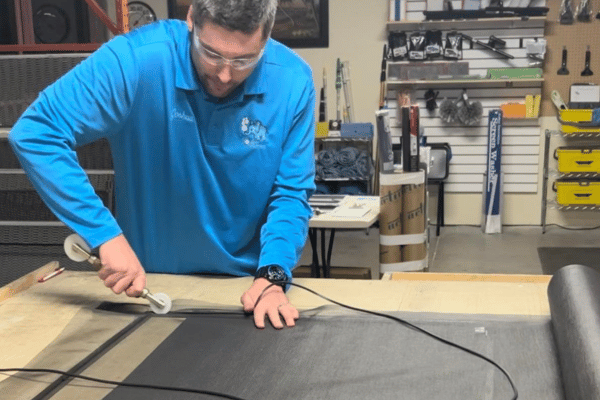 Why Window Screen Repair Is Essential
A small tear in the window screen might seem inconvenient. But the truth is that there are a lot of reasons why these problems need to be repaired as soon as possible. Not only does a window screen tear have a negative impact on the appearance of your windows and home, but it can also lead to bigger issues in the future.
A hole is an invitation for bugs and pests to come inside. This gap can be an entry point that eventually leads to an infestation.
Additionally, untreated screen damage will grow larger over time. If you leave these areas untreated, regular wear and tear will pull at the screen, making the hole bigger. Eventually, the screen reaches a point where it can no longer be repaired, which means you'll need to invest in a new screen installation.
Screen Repair to Save Money
The cost of screen repair is minimal compared to what you might pay for full-screen installation. As with other home maintenance projects, if you are proactive about small steps right now, it has a positive impact to help you avoid more expensive costs in the future.
So, make sure you are repairing these holes in the earliest stages. As a result, you can protect the durability of your screens and help them last for many years.
What Size of Screen Holes Can Be Repaired?
Holes that are 3 inches in diameter or less can be repaired. You can barely see the patch if the proper repair techniques are used. From a distance, the screen looks as good as new!
Smaller holes can also be repaired. But if the hole turns into a large tear that is bigger than 3 inches, then you might need to pay for replacement screens instead of window screen repair in Temecula.
Window Screen Cleaning and Repair Services
With regular maintenance, you can protect your screens and use them for years. The best solution is to schedule cleaning and repair services once a year. Our team will come to your home to wash away the buildup and debris on the surface of the screens. Additionally, we complete a thorough inspection and offer any screen repair services you need.
For more information about window screen repair in Temecula, reach out to Pozitive Enterprises for a consultation. In addition to screen repair, we also offer screen cleaning, solar panel cleaning, and window cleaning for residential homes and commercial buildings. Contact us when you are ready to learn more about these professional services: (951) 710-7044.