When the weather is hot outside, it's no surprise that the windows are often a main source of heat gain in the summer months. In fact, the quality of your windows and window coverings can affect your cooling costs and decrease utility expenses.
One of the most effective solutions to keep your home cool is using solar screens for windows. Our team at Pozitive Enterprises offers solar screen installation as well as window screen repair in Temecula. Call us to learn more about these quality products and services.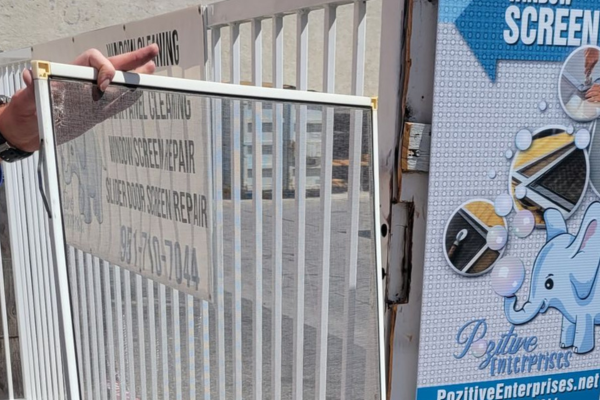 Benefits You Can Expect from Solar Screens
Here are some of the benefits homeowners love when they invest in solar screens:
Keep Your Home Cool: Even when the temperatures are high outside, solar window screens can decrease heat gain.
Reduce A/C Wear and Tear: Maintaining a cooler indoor climate reduces the time your air conditioner is running throughout the day. As a result, the load is lightened on the HVAC system, and you can reduce wear and tear.
Daytime Privacy: These solar screens offer an additional level of privacy in your home. During the day, the windows are darker, so people can't see into your living space. At the same time, the screens still allow indirect light to come inside.
Block UV Rays: The harsh UV rays from the sun can not only cause sunburns and potentially lead to skin cancer, but these UV rays can also cause fading on flooring and furniture. Solar screens block the UV rays while illuminating the room with indirect light.
Window Insulation: Even when the weather cools down in the winter months, solar screens still help with indoor climate control. They act as a layer of thermal protection to minimize the cold coming in through the windows.
Year-Round Climate Control: Solar screens are beneficial throughout the year, regardless of the weather temperature outside. So, you don't need to worry about window maintenance whenever the weather changes. These screens block the weather element from coming in contact with the glass, making it easier to keep the windows at room temperature.
Save Money: Results vary depending on your home, windows, insulation, and more. But many homeowners find that their utility bills reduced after solar screen installation.
Call the Experts for Info About Screen Repair and Installation
Do you need help with screen repair or screen installation in Temecula? Then call the experts at Pozitive Enterprises. We offer both residential and commercial services. Contact us when you are ready to schedule a consultation and learn more. Additionally, we offer window cleaning and solar panel cleaning services for your convenience: (951) 710-7044.