Window cleaning can be dangerous, especially on buildings with multiple levels, because some windows are so high. One of the undeniable benefits of hiring experts for residential or commercial window cleaning in Temecula is that the team will bring all of the necessary safety equipment. When the professionals are on the job, you can have peace of mind knowing that the risk of injury on your property is low.
Window Cleaning Safety: What You Need to Know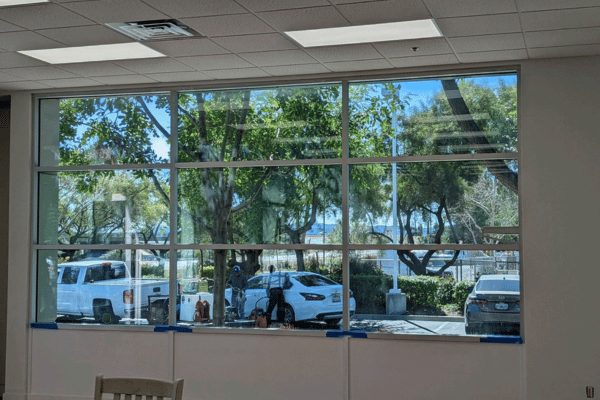 Not only do window cleaners make the glass shine, but they also climb high to reach all of the windows. It's a dangerous job that requires training and precision, which is why safety precautions are absolutely essential. Even the smallest details can make a big difference to avoid injury.
Several important elements must be considered for safety when cleaning the windows. Here are some of the precautions we take when our professional window cleaning team is on the job:
Make a Plan: Designing a plan is especially important in larger commercial buildings because there will be access points around the building to reach all of the windows. The window cleaning team will look at the property and create the access points.
Walk the Route: Before climbing on any ladders or equipment, the window cleaning team will walk the route to see the job from the ground. This preparatory step makes it possible to identify any obstructions or issues that need to be moved out of the way to ensure safety.
Checking the Equipment: A pre-check of all the equipment is necessary to make sure that everything is working correctly. Not only will it save time to ensure that you have the right equipment when you reach the top of the ladder, but quality equipment also affects the quality of the job performed.
Safety Equipment: Different types of safety gear will be used, depending on the height and other project specifications. Examples of safety gear might include heavy-duty ladders propped to the correct angle for safety, water-fed poles to clean hard to reach windows from the ground, and correct footwear to reduce the risk of falls and slips on jobsites.
Our team takes a proactive approach to ensure the highest levels of safety every step of the way. Each of our team members is trained on the best safety protocols. We invest in good equipment, and we put in extra attention to protect every person.
Call the Temecula Window Cleaning Experts
Is it time for you to hire help with commercial window cleaning in Temecula? Then reach out to our team at Pozitive Enterprises.  We offer both business and residential window cleaning services, as well as solar panel cleaning and screen repair. Contact us online or call us at your convenience: (951) 710-7044.