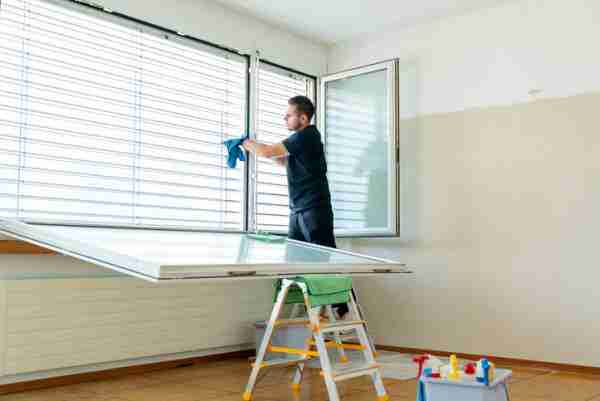 Window cleaning seems like a fairly straightforward service, and it is. But still, you have a few questions before we get started. You're always welcome to call us and ask anything you like, but perhaps this blog will clear up a few of the more common concerns.
Will my floor and walls get wet during window cleaning? No, because we're seasoned experts, we can perform this service without making a mess. We will use a drop cloth where necessary. Otherwise, we've mastered our window cleaning technique so that you don't have to worry about any messes.
Won't my windows just get dirty the next time it rains? You might notice that your windows tend to look more grimy after it rains. That's because water sticks to dust and dirt, to create an even messier appearance. Once we've cleaned your windows professionally, there won't be any grime for the water to cling to… So your windows will continue to look clean for quite some time, rain or not.
What do you use to clean windows? We use a cleaning solution that is formulated to remove most spots and stains without needing to scrub overly hard at the glass, and that leaves your windows free of streaks. Squeegees and microfiber cloths protect the glass from scratching, so you don't have to worry about damage.
How often should I have my windows cleaned?  For the best results, we recommend window cleaning once every season – every 3 months.  To keep the windows clean all year, you'll want to clean them inside and outside every 3 months.  Remember, we also will clean your screens at the same time!
Why should I have my windows professionally cleaned? Homeowners and business owners hire us for numerous reasons. You might simply be too busy to take on the lengthy task of cleaning all of your windows. You might also worry about hard-to-reach windows, and the danger of climbing or reaching for them. And of course, since we use professional equipment and skill, we can get your windows cleaner and the results will last longer.
For more information on our window cleaning services, give us a call. We can help you learn what to expect.