As the temperatures warm up in the spring, it also brings changing weather patterns. The popular saying conveys the message: April showers bring May flowers. There can indeed be more precipitation this time of year, and the rain is welcome because of the growth and beauty it promotes in the summer months.
Even though there aren't drastic temperature changes here in Temecula, the changes in the spring can be an ideal time to add window cleaning to your to-do list.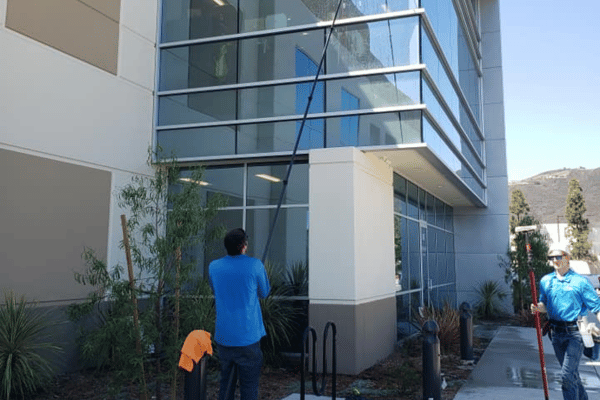 Why Spring Is the Perfect Time for Window Cleaning
As you are considering the care and maintenance of your office building, there are a few important tasks that should be added to your spring-cleaning list. It's essential to be proactive about deep cleaning and repair work as needed, ensuring that your workplace or storefront looks professional and welcoming for both employees and customers.
The general recommendation is that windows be cleaned at least 1 – 2 times per year at minimum. Many businesses choose more frequent cleaning services to ensure the windows always look flawless. For example, you might choose to schedule window cleaning services quarterly, or even monthly or bi-weekly depending on how high your foot traffic is.
Call the Pros for Commercial Window Cleaning Services
Window cleaning is one task that should never be overlooked. You won't regret calling professional window cleaners in Temecula for help. Here are a few of the benefits you can expect from these pro services:
Improve Building Appearance: The windows are one of the first things people see when they visit your office building. If the glass is dirty, then it will have an undeniable impact on first impressions. Presenting a clean and attractive building is essential so customers can see that you provide quality products or services.
Employee Health: Cleaning away the dust and dirt from the windows can have a positive impact on boosting health. Not only are employees happier in a clean working environment, but reducing the dust and allergens can help to protect overall health. In fact, keeping the workplace clean could reduce the number of sick days used by employees throughout the year.
Team Productivity: Some businesses have employees helping with maintenance tasks like window cleaning. But consider how much productivity is lost because of the interruption caused by cleaning. A better solution is to bring in professional window cleaners so employees can focus on other priorities in their job descriptions.
Is it time for commercial window cleaning in Temecula? Then reach out at your convenience for a free estimate and consultation. Our team at Pozitive Enterprises offers full-service solutions for both residential and commercial window cleaning. Contact us to learn about window services and other support we provide, such as solar panel cleaning and screen repair: (951) 710-7044.