You want to optimize available energy with your solar panels, so you need to ensure the most surface level is being exposed to sunlight. When grime and debris build up on the solar panels, it can take a toll on performance because the sun's rays cannot penetrate the panels very well.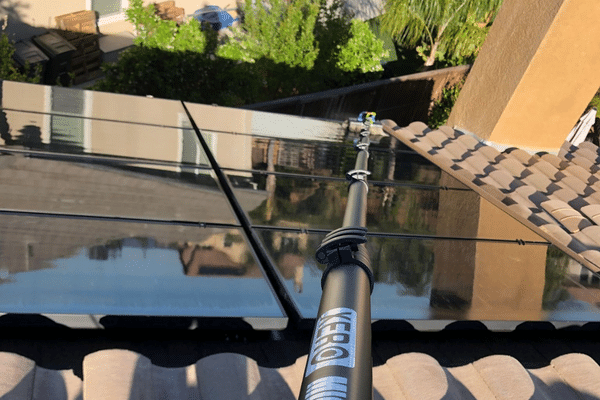 A good solar panel installation requires minimal maintenance over the years. But the one priority you should always add to your to-do list is solar panel cleaning in Temecula. Regular cleaning improves the performance of the panels, and you can also reduce the wear-and-tear over time.
Is Rain Enough to Clean the Solar Panels?
It's normal for dust and dirt to collect on the solar panels. Then, rain can help to wash away these particles. But rain isn't always sufficient to clear the surface of the solar panels.
Over time, the grime can start to build up, making it harder to keep the panels clean. In addition, minerals and acid rain can cause damage to the solar panels. But you can reduce the damage with regular solar panel cleaning services. Don't rely on the rain alone. Instead, be proactive about protecting your equipment by cleaning the panels each year.
Weather Conditions That Merit Solar Power Cleaning
Here are a few situations that might merit a phone call to a solar panel cleaning company:
Wind and Dust Storms: The more dust in the air, the higher chance that your solar panels will have a layer of buildup that needs to be cleaned. If a wind storm comes through, inspect the panels and decide if you need to call a professional cleaning team for assistance. Also, high winds can cause flying debris that could result in damage or obstructions.
Smoke from Fires: It's unfortunate that California has experienced many wildfires in recent years. While we hope that fires won't be an issue in the future, homeowners need to be aware of how the smoke and soot affect solar panel performance. If there are fires in the area, the dust and soot could decrease your solar panel performance by as much as 30%. Then make sure to clean the panels after the smoke clears.
Snowy Conditions: One of the benefits of living in Temecula is the beautiful weather that we enjoy throughout the year. Even though snow isn't a concern here, be aware of how snow affects solar panel performance if you have a cabin or vacation home in higher elevations.
Expert Services for Solar Panel Cleaning
No need to climb on your roof to clean the solar panels: call the experts instead. Our team at Pozitive Enterprises is available to assist. Contact us for information about all of our services, including solar panel cleaning, screen repair, window cleaning, and more: (951) 710-7044.